The SiGMA/AIBC Europe 2021 has moved its dates back from Februaruy 16-18 to April 13-15, it was announced yesterday.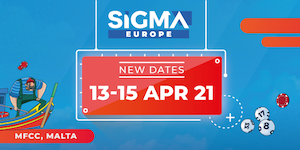 The Malta-based event, due to be held at the MFCC on the island, follows approval from the Medicines and Healthcare Products Regulation Agency for the UK to begin administering the world's first clinically approved vaccine in early December.
The UK's delegates make up one of the largest groups to attend SiGMA Europe, explained the company. The new dates represent the second date change for the event, originally planned for November of 2020.
SiGMA founder Eman Pulis, said: "The early release of the Pfizer BioNTech vaccine makes us hopeful that a sense of normality will now resume within the next four months.
"Our recent virtual expo was a huge success but we hope to now continue building on these relationships in person as we launch into what looks set to be a very exciting year."
SiGMA's digital excursion into the emerging LatAm and Asian markets will still go ahead in 2021.