Former professional footballer Andriy Shevchenko has joined BetConstruct as a brand ambassador.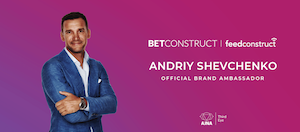 The collaboration is intended to introduce the global technologies of BetConstruct and its data feed provider FeedConstruct to a wider audience.
"The biggest lesson I learnt through my footballing career is that one should never waste any opportunity," Shevchenko said. "Chances come and go but we need to take full advantage of any of them. FeedConstruct's AI-based live scouting tool AJNA is the ambitious project that I'd love to be involved in. Becoming a brand ambassador of such a forward-looking company and making progress in implementing hi-tech in sports is an opportunity that I'd never want to miss."
"Andriy Shevchenko has an incredible journey from a footballer to an outstanding team manager," said BetConstruct's founder and CEO, Vigen Badalyan. "His interest in the ways AI technology can be used in sports became a prerequisite for our cooperation. It is a great opportunity for BetConstruct to build footballing expertise with Shevchenko's advisory. Together we will seek ways to further implement the latest AI technology into sports."