First Look Games, the platform that facilitates the distribution of game information from studios to affiliates for the purpose of game promotion, has added Gaming Realms to its list of developer partners.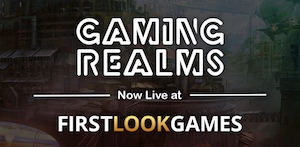 Gaming Realms is one of the leading providers of real money games and the owner of the Slingo IP. Its innovative mobile-focused content encompasses in-game player defined choice and strategy to augment a fun and engaging player experience.
The studio will now be able to leverage the power of affiliates for game promotion. By joining First Look Games, it gains access to more than 800 approved publishers with their combined global audience of 20-plus million players.
As an FLG partner, Gaming Realms can share information about each of its titles including logos, images and videos of games being played. These are uploaded to the First Look Games library where they can be downloaded individually or in bulk and used for content creation.
The studio can also access a range of cutting-edge tools and features that were recently rolled out as part of the First Look Games 2.2 update. This includes more options to manage their games and assets via a brand-new studio management centre.
Key features include being able to announce any exclusivity arrangements they have on game launches as well as adding and removing jurisdictions for each game.
Other highlights of First Look Games 2.2 include a cutting-edge and free API feature that provides connected access to game and game studio data, presented to affiliates in a structured format.
This allows them to automatically create initial reviews of games. All this is handled via an intuitive UI and backed by extensive data reports post-launch.