Symplify CMO Paul Crisp describes the company's unique approach to strategy.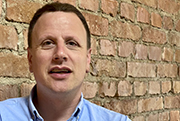 INTERGAMINGi: Could you tell us how your company defines player engagement?
PC: Player engagement is a continued desire to interact with our own or our customer's products. Its essence is centred on creating a long-term meaningful relationship with an audience that results in them coming back for more, as it brings entertainment or satisfaction for a need.
Read the full article in the latest issue of iNTERGAMINGi
To receive every print and digital issue of iNTERGAMINGi, subscribe here