After the successful debut of the Dig Dig Digger slot in 2021, BGaming is renewing its collaboration with a famous comedian in a new summer slot, Big Atlantis Frenzy.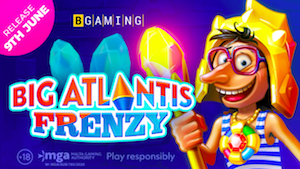 In addition to the traditional bonus, wilds and free spins, Big Atlantis Frenzy, to be released on June 9, will have an independent reel size change option.
This exclusive feature allows players to set the rules themselves: 5x3, 5x4 or 5x5. The players will be able to choose a reel size and number of paylines correspondingly.
"Big Atlantis Frenzy captures the best features of the well-loved fishing slots," said the company. "Also, it was upgraded with fancy characters and must-have Buy Bonus and Chance x3 features."
The character of the eccentric archeologist underlying this comedy-themed slot belongs to the famous showman in the CIS, Vadim Galygin, who was involved in the production process.
The showman сompletes spins with jokes, sympathises with players' emotions, and speaks in the manner of Jacques-Yves Cousteau, the famous scientist and explorer of the deep seas.