One of the most successful betting companies in the world, 1xBet, has announced a partnership with its first ambassador in India - renowned cricketer Dwayne Bravo.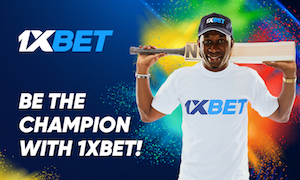 The athlete is known for his performances for the West Indies and various teams from India and other countries. Bravo currently plays in the Indian Premier League for the Chennai Super Kings. The agreement between the bookmaker and the sportsman is valid for one year.
Through this collaboration, Indian players will be able to participate in various events featuring Dwayne Bravo. Also, the bookmaker and the sportsman are already preparing new unique promotions and offers for their fans. In addition, Bravo will appear in various 1xBet advertising campaigns.
Dwayne Bravo is a legendary cricketer, long-time captain of the West Indies and holder of many trophies. He is a true all-rounder and is superb at both batting and bowling. Also, in 2016, the athlete released the single Champion, which became a hit in India and topped the local charts.
"We are delighted to have signed our first ambassador in India and that it is Dwayne Bravo," said the company. "Our partnership with the athlete promises to be very fruitful.
"This is a consummate professional who is the personification of confidence, dedication and constant development. His game is mesmerising and the list of trophies and achievements is impressive.
"We are sure that together with Dwayne Bravo, we will reach new heights and will be able to please Indian players with great offers and joint events."
"I am honoured to be the first 1xBet ambassador in India," said Bravo. "1xBet have shown they are characterised by ambition and a desire to go forward constantly, so I didn't hesitate for a second when I was offered the opportunity of becoming a partner of the company. I think that together we will bring a lot of joy to all Indian sports betting fans."