Sportsbet.io has launched its Soccer Centre, a data-driven area of the site dedicated to giving its loyal player base all the real-time information they need to make better and more informed betting decisions.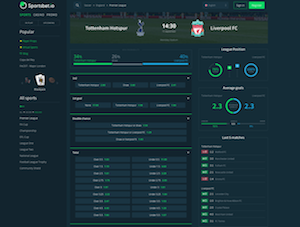 The disruptive sports betting brand, operated by the Coingaming Group, launched the new product due to the huge popularity of its World Cup Centre. This proved to be a massive draw for players providing them with the ultimate betting experience prior to, and during, this summer's festival of football in Russia.
The new Sportsbet.io Soccer Centre enables customers to access real-time news, data, markets and offers to help them study the most up-to-date statistics and make more informed betting decisions, whatever their betting knowledge may be.
Less experienced punters have the chance to make better decisions thanks to the Soccer Centre's comprehensive guides, while more studied bettors can access everything they need in one place, whether on desktop or mobile.
Sportsbet.io's philosophy is to always place the customer at the 'centre of the universe'. The new Soccer Centre allows players to access all the information they need on one page, never having to leave the site and being presented with simple, accessible information.
Players can view a timetable of current and future events, read real-time match data with regularly refreshed news and alerts, and access the most popular bets, plus all the relevant offers including free bets and casino offers. What's more, if players believe there is an element missing from the site, they can contact Sportsbet.io and the customer centric sportsbook will consider adding it.
Sportsbet.io plans to increase the number of 'Sports Centres' to five, expanding its reach and customer choice to tennis, basketball, cricket, American football and baseball.
Joe McCallum, Director of Sportsbook at Sportsbet.io, said: "Customer experience is central to everything we do at Sportsbet.io. We encourage our developers to innovate and disrupt and, thanks to their efforts and the success of the World Cup Centre this summer, we have decided to expand the offering into a wider, more comprehensive Soccer Centre.
"It has launched at the ideal time with the new season hotting up across all the major European leagues and players still assessing each team's chances of silverware, mid-table mediocrity or the dreaded drop. Everything they need to make better betting decisions is here and we fully expect our customers to embrace our innovation."