Pragmatic Play has teamed up with Maltese athlete Steve Sammut Nurminen as he looks to complete an incredible challenge, running 365km across Sicily in aid of the charity Dr Klown.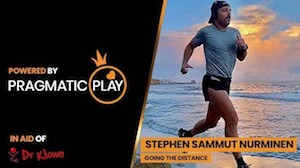 Steve aims to raise €10,000 for the non-governmental organisation, which provides a unique service to hospitalised children in Malta and Gozo.
Dr Klown supplies clown doctors that are artistically and psychologically trained to entertain children in hospitals, where the volunteers amuse kids and produce smiles and laughter to those in need.
The incredible running challenge is sponsored by Pragmatic Play, who will be supporting Steve and his experienced team as he prepares for the run from Syracuse to Trapani at the height of summer in a timeframe of just two and a half days.
Julian Jarvis, CEO at Pragmatic Play, said: "Steve is well known in the Maltese community for his Herculean feats of endurance running and we're very proud to be able to support him in his latest astounding effort.
"The work that Dr Klown does in Malta is extremely important and we're humbled we can support Steve in his quest to raise as much money for them as possible."