The sixth 2017 issue of iNTERGAMINGi magazine is now available in digital format, viewable directly from your PC, Mac, tablet or smartphone.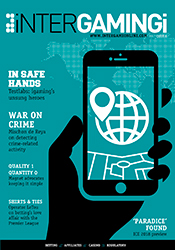 To view this issue of iNTERGAMINGi please click here.
Issue 1 of 2018, the ICE issue, includes coverage of software and game development, discussing the ever-changing face of the igaming sector, with a look at trends, launches and recent developments in a range of sub-sectors, including slots, live casino, sports betting and payments.
Also in this issue, our sports feature discusses the constant challenge of honing and improving the bettor experience, whether that be introducing palatable snacking products for side bets at half time in a big match or keeping punters engaged during football-free summer months.
To discuss marketing opportunities in this issue please contact sales@intergame.ltd.uk or call +44 (0)161 633 0100.