Betting brand Buff.bet has announced the acquisition of eSporbet – a betting place dedicated specifically to esports punters in the EMEA region.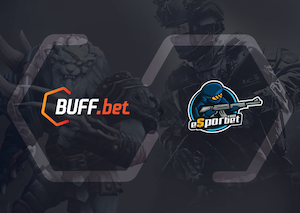 The deal creates further opportunities for Buff.bet to acquire, convert and retain a wide audience of fans and followers who bet particularly on esports, from CS:GO, Dota 2, League of Legends to thesports simulators FIFA, NBA2k and NHL.
Recently, Buff.bet merged with X-bet.co to form a stronger partnership in the igaming industry. Buff.bet came under the management of XB Systems, an organisation with a track record of online operations on the global gaming map.
Daniel Miller, CEO of XB Systems, said: "With the ever-increasing demand of the esports betting vertical, we have been looking to make another successful business partnership. Esporbet is the right choice holding a growing opportunity for us. It's already attracting a massive audience of esports users, who will definitely enjoy betting on Buff.bet with its modern and easy-to-use interface as well as the unrivaled esports options."