Wayne Shaw, the former goalkeeper for English non-league football team Sutton United has been charged with breaching two Football Association rules in relation to the betting scandal he found himself at the centre of last season.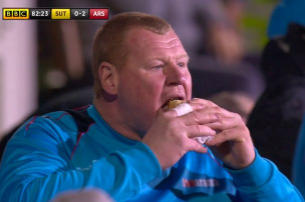 "Piegate", as it was to become known, began with operator SunBets offering a novelty bet on whether the generously proportioned Shaw would eat a pie during his team's televised FA cup tie against Premier League team Arsenal, held in February at Sutton's ground.
Engaging in what he believed was "just a bit of banter", Shaw duly obliged by wolfing down a meat-and-potato pie on the sidelines with five minutes to go - broadcast live on BBC television.
The 45 year old 'keeper subsequently lost his job and became the centre of investigations by both the FA and the Gambling Commission.
The findings of the FA investigation have now been made public and Shaw has been charged in relation to two breaches of FA rules.
A statement on the FA website reads: "It is alleged the former Sutton United goalkeeper intentionally influenced a football betting market during The Emirates FA Cup fifth round tie against Arsenal on Monday 20 February 2017, contrary to FA Rule E5(a).
"In addition, it is alleged he acted in a manner which was improper and/or brought the game into disrepute, contrary to FA Rule E3(1).
"He has until 6pm on Friday 21 July 2017 to respond to both charges."
As yet there has been no comment from Shaw.