The leading content and data provider BETER has announced the enhancement of its 24/7 efootball live streams with an in-play statistics widget.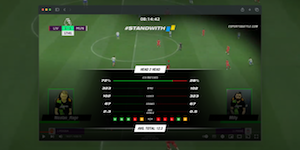 This new feature is designed to provide bettors with additional information on players' performance in ESportsBattle tournaments and to create a better betting experience.
The new widget displays individual players and head-to-head stats, which is the win/loss ratio of a pair of players in all matches they played together, allowing bettors to quickly assess opponents' performance.
Moreover, the H2H stats may highlight up-and-coming players' giant-killing potential.
Bettors also get instant access to the number of matches played by a pair of players, win rate, wins/losses/draws, average goals, average total and wins-losses in the last five matches, match schedule and tournament table.