A new all-female poker tournament in Sheffield is set to become the first in the UK to exclusively invite women to play in a league of their own.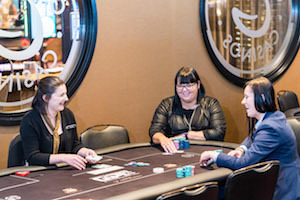 Launching in the newly refurbished poker room at Grosvenor Casino Sheffield, the six-week Women's Poker League highlights the shift in gender diversity at the felt and the growing popularity of playing poker amongst women.
The new live poker league is the first to launch in a casino and over the course of seven weeks, starting from June 1, women from across South Yorkshire will be able hone their bluffing skills and strategy as they battle it out in a head-to-head poker league.
They will gain points to be in with a chance to win a seat to play at the UK's biggest Women's Poker Championships at Grosvenor Casinos' Goliath Poker Tournament 2019, among other prizes.
The winner of the league will gain exclusive entry to Goliath, the biggest live festival of poker outside of Las Vegas which is taking place at Grosvenor Casinos club within the Ricoh Arena in Coventry this summer with a shot at the guaranteed £100,000 first prize.
Rachael Procter, a 47-year-old mum of three from Woodhouse in Sheffield, works at a local car hire company and has been playing poker for 15 years.
She said: "It's fantastic news that Grosvenor Casino Sheffield is running a dedicated all-female poker league. Poker is a real passion point for me and I play at the casino regularly.
"What this league will offer women across South Yorkshire is the chance to learn how to play as well as socialise with like-minded women in a safe and welcoming environment. I'm looking forward to the league starting and meeting lots of new friends in the process."
Charlie Churchill, general manager at Grosvenor Casino Sheffield, said: "We're really excited to be hosting the UK's first ever all-female club live poker league. The popularity for playing poker amongst women has grown massively over recent years and we're proud as a club to be creating more inclusive opportunities that welcome women to play."