Eman Pulis, founder of SiGMA Group, explains to iNTERGAMINGi how returning a Mediterranean vibe to the UK crowd feels and discusses the standout elements of the SiGMA iGathering Dinner.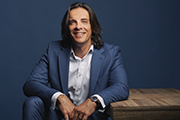 INTERGAMINGi: It's been a complicated year for live events. How excited are you for the SiGMA iGathering Dinner in London?
Going by the positive reception we got in Spain for our Marbella dinner earlier this month, people are definitely craving the return of face-to-face meetups. We're bringing some of that Mediterranean vibe with us to London, having picked a great location for our dinner - Tziganos - a Mediterranean style kitchen serving a selection of traditional Spanish fish, meat and vegetarian dishes. We're also happy to be able to play our part in supporting the hospitality industry, which has, like many other businesses in the leisure sector, faced tough times following a series of lockdowns.
Read the full article in the latest issue of iNTERGAMINGi
To receive every print and digital issue of iNTERGAMINGi, subscribe here