New esports betting platform Puntt is recruiting affiliate partnerships to drive player acquisition.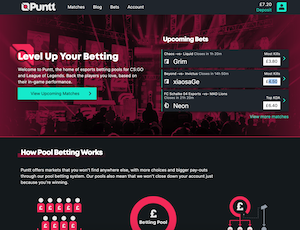 Launching in 2020, the esports technology start-up has been gaining traction in the market as an innovative platform. Puntt seeks to deliver new betting dynamics to esports markets, with its player betting and place betting offering setting it apart from rivals.
Puntt offers esports betting pools for CS:GO and recently launched League of Legends. The platform offers markets that won't be found elsewhere, with more choices and bigger pay-outs on offer through the proprietary pool betting system.
Puntt also commits to reinvesting a portion of revenue back into esports teams, tournaments and gaming-related charities. Digital Fuel Marketing exclusively manages Puntt's affiliate programme.
Phill Adams, CEO at Puntt, said: "Onboarding affiliate partners is a crucial step in Puntt's growth strategy. We are excited to have created a pool betting platform that meets the needs of esports fans and players, enabling our customers to bet on the players they love. The whole team at Puntt are excited to welcome new affiliate partners to offer our exciting new platform to new players."