PlayAttack Affiliates has launched its latest Stream Apocalypse Unite contest, with a $150,000 prize pool.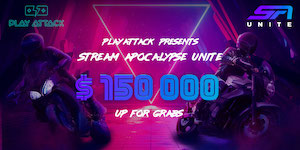 Stream Apocalypse is a slot games contest where online streamers compete by playing slot games on PlayAttack brands and broadcast the process through their channel on either YouTube or Twitch.
PlayAttack is the only affiliate programme that has a separate project for casino streamers. With online streaming gaining momentum during the past years, PlayAttack's idea was to provide streamers with a platform explicitly adjusted to their needs.
The contest runs from Monday, October 5, through to November 13, giving PlayAttack streamers plenty of time to enter the battle for a chance to compete for the prize pool.
The contest will run in three stages. Stage one will run from October 5 to October 16 at SlotV and Aplay Casino; stage is from October 19 to October 30 at Frank Casino and Columbus Casino; and stage three is from November 2 to November 13 at Mr Bit and Drift Casino.
During each stage, participants can choose one of the two brands available for streaming during the particular round.
The prize fund for each Stream Apocalypse stage is $50,000 and the goal is to get more win multipliers than anyone else. The top five streamers in each round will get a share of the prize, with the top streamer raking in $17,500 and fifth place taking home $3,500.
Mark Elvyn, affiliate manager at PlayAttack, said: "This time around, we're making the conditions fair for everyone – streamers of any scale may take part and get some cool rewards and a chance to boost their affiliate performance with an increased number of streams. This is something that has not happened before in the EU market, and we are thrilled to see everyone being able to participate."
The Stream Apocalypse tournament was previously only available for streamers from Curacao jurisdictions. This time around, streamers belonging to the MGA jurisdiction can also enjoy the perks offered by the Stream Apocalypse Unite tournament.
Streamers must create an account at the Stream Apocalypse website and link this account to their PlayAttack profile. Upon completing the verification process, they can stream from their Twitch or YouTube channel.