Finnish government-owned betting operator Veikkaus has agreed a long-term partnership with content, platform and service provider OpenBet.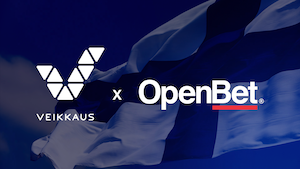 The deal comes as Finland progresses towards a more inclusive betting system, allowing private companies to apply for sports betting and igaming licences. Veikkaus will navigate the transition with the help of OpenBet, who will power its sportsbook platform, expanding its online and retail betting operations.
"Our partnership with Veikkaus demonstrates our ambition as pioneers in regulating markets," said Nikos Konstakis, chief product officer at OpenBet. "By integrating our innovative technology and tailored solutions, we are not just entering Finland, we're transforming its sports betting landscape. It's a monumental chapter for OpenBet and we look forward to setting an unparalleled benchmark with Veikkaus.
"This reaffirms our position as an undisputed leader in the WLA space, with 18 global partners, and highlights our expertise in the lottery sector and commitment to responsible gaming and driving success for operators through localised strategies."  
Juha-Matti Mäkilä, vice president, betting operations at Veikkaus, added: "We're thrilled to partner with OpenBet in this venture. By utilising their deep-rooted expertise and top-tier technology solutions, we will redefine the user experience and elevate our sports betting offering.
"OpenBet's advanced technology suite and a history of scaling operations in dynamic markets make them the ideal partner for us. We foresee that this partnership will make us strong and competitive in the evolving Finnish market today and for the future."