Paddy Power Betfair has proposed to rename itself as Flutter Entertainment, as the group bids to reflect the diversity of its brand and operations.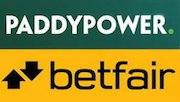 The name change, which is subject to shareholder approval, is set to take place in May, the group said today in its annual financial report.
Paddy Power Betfair's profit before tax fell to £219m in FY2018, down 11 per cent from 2017's £247m, though revenue rose by seven per cent year-on-year to £1.87bn. Earnings per share fell six per cent year-on-year to 241.7p, with an unchanged proposed full-year dividend of 200p per share.
The group says it has made good progress in enhancing its position in existing key markets, with the Paddy Power brand taking online market share in the UK, while it invests in new market growth opportunities organically and through M&A activity. In the nascent US market, FanDuel was acquired as an early leading position was taken by the group, while "significant" technological development is ongoing to accelerate Betfair's international growth.
This year, Paddy Power Betfair attained a premium position in Georgia by acquiring Adjarabet a month ago.
Paddy Power Betfair's chief executive Peter Jackson said: "I'm really pleased with the way that the group performed in 2018 in what was a challenging year for the sector with regulatory and tax changes. Our collection of challenger brands are well positioned in their local markets. Paddy Power has regained its mojo, taking share following product improvements and some of our 'classic' marketing.
"Betfair, our unique combination of product that appeals to customers around the world, will be improved by our ongoing investments in languages and localisation. In Australia, recent tax changes favour the largest operators and we are determined to maintain our leadership position amongst the online bookies, using Sportsbet's leading customer proposition and generosity to continue to take market share.
"The opening of the US online sports betting market has the potential to be the most significant development to occur within the sector since the advent of online betting. Rather than announcing our plans, we have moved quickly to give ourselves the best chance to win in that market. We are confident that FanDuel's nationally recognised sports brand, 8m customers, our group betting expertise, and our market access partnerships position us very well. Our success to date supports this view, with FanDuel achieving a 35 per cent online market share in New Jersey in its first five months of operation, and Meadowlands becoming a marquee venue for sports betting.
"The new financial year has started in line with our expectations. The acquisition of Adjarabet is further evidence that we are delivering against our strategy, and whilst there will inevitably be further regulatory challenges, we are excited about the growth opportunities ahead of us. With a growing portfolio of brands, we plan to rename the Group as Flutter Entertainment. There are no plans to use this historical name for consumers, and we will seek shareholders permission for the change at our forthcoming AGM."