The post-regulated province of Ontario, Canada, will become the most attractive igaming market in North America, surpassing all its US online counterparts when it goes live in Q1 2022.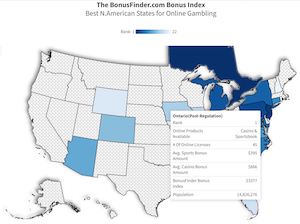 This is according to Bonusfinder.com's latest Bonus Index results. Once regulated in early 2022 Ontario will become North America's most important online casino and sports betting market.
The Bonus Index predicts that a combination of its 15 million population, with a strong volume of sportsbook and casino players and an estimated 70-plus brands looking to acquire a licence when the market goes live, means that brands will be entering a highly competitive market and battling for players by offering the continent's most appealing casino bonus of $866 and an estimated sportsbook bonus of $395.
Ontario has a Bonus Index score of 23,377, nearly twice as high as New Jersey, its nearest US state rival and second in the Bonusfinder.com list.
New Jersey has recently revealed a record monthly turnover of $1.3bn in bets taken in October. However, Ontario is expected to outstrip this in its first month with a population double the size of the east coast state.
Earlier this month the Bonus Index predicted New York would become the number one state for US sports betting despite one of the highest tax rates applied to its nine licensed operators.
Bonusfinder.com has predicted average welcome offers in New York of $1,500 with a low of $550 and a high of $5,000.