N1 Partners Group has launched an exclusive club for the members of the affiliate programme only.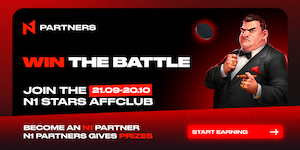 The company is launching a new way for the members of the N1 affiliate programme to take advantage of their FTD figures and earn well-deserved prizes by competing with others for the best results.
N1 Partners Group came up with a great way to encourage the affiliate programme members to strive for ever better results and feel appreciation for their hard work.
From September 21 to October 20, the members of the N1 affiliate programme are encouraged to join the N1 Stars AffClub and compete with each other for well-deserved prizes.
Only the following geos produce eligible SEO and PPC traffic: Australia, Austria, Switzerland, Kuwait, Canada, Denmark, Germany, Finland, New Zealand and Norway.
Personal N1 managers will help the interested members to learn all the details and define their segment. Naturally, those who join the club earlier get an advantage in the competition.