International Game Technology's DoubleDown Casino – one of the world's most popular free-to-play social casinos with more than six million active monthly players - will be available on PlayPhone's mobile social gaming network this summer.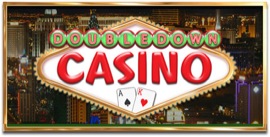 John Clelland, vice president of global marketing for IGT Interactive Group, said: "Success in today's mobile gaming environment is about pairing explosive content with an irresistible community of other players.
"IGT therefore looks for the widest possible distribution and the easiest-to-use technology to attract and retain customers. PlayPhone's carrier relationships, world-class social features and direct carrier payments will entice millions of new subscribers to experience the best Vegas casino environment outside the Strip."
Available on Facebook and mobile devices, DoubleDown Casino offers more than 30 different slot games, including popular titles Siberian Storm, Wolf Run and Cleopatra, alongside multi-player poker and bingo.
"PlayPhone is excited to partner with DoubleDown Casino to bring their immensely popular social casino games to our worldwide mobile gaming network," said Anders Evju, CMO for PlayPhone.
"The deal also helps us fulfil our commitment to carriers and other developers – by bringing back revenue carriers have lost to app stores and by multiplying and enriching the number of unique opportunities for the system to cross-promote individual games."