EGT Interactive's portfolio is now available on Bet-Live, the famous casino operator in Bosnia and Herzegovina.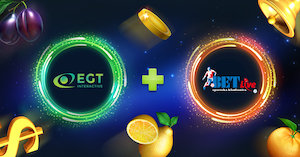 The partnership is through the CorNet platform and is promising great results. Bet-Live is a well-known operator with 290 land shop locations, also providing online services like sports betting, live betting, casino and bingo games.
EGT Interactive is already a preferred provider in this igaming market, building a stable and loyal audience of players. It is strengthening its position in Bosnia and Herzegovina's regulated territory by launching its content on Bet-Live.
Todor Zahariev, managing director of EGT Interactive, commented: "Bet-Live is a well-known operator in Bosnia and Herzegovina with an impressive reach. We are delighted to partner with them and to offer our preferred games to more and more players across this market."
Željko Dobranic, managing director of Bet-Live, commented: "We are very proud to cooperate with one of the most famous companies that provide slot games. We hope that this cooperation will improve our services and further strengthen our brand in the market."