EGT has a new roulette product up its sleeve for the BEGE show in its home country.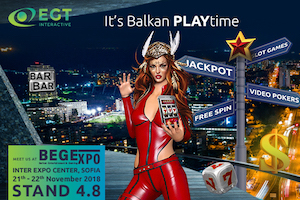 The Balkan Entertainment and Gaming Expo will take place from November 21-22 at the Inter Expo Center, Sofia, Bulgaria and EGT plans to unveil its hybrid roulette where players will be able to choose between playing physical roulette or online.
The game combines the years of experience and collaboration between both land based and online systems of EGT and EGT interactive. Both companies will be represented together at Hall 4, booth 4.8.
Irina Rusimova, business development manager for EGT said: "Since the last edition of BEGExpo, we managed to widen our proposition with more than 15 great video slots, based again on classic, simple and easy to follow themes and pay tables, great payouts and attractive RTP. This added refreshment and more gaming experience to the already familiar titles. Also, along with this, we continue to look towards new markets such as Denmark, Sweden and Switzerland in the next months.
"We are already seeing great interest from existing and potential partners for these markets and are expecting to launch with some of the biggest players. Since we are one of the first igaming companies with certified video slots on the Colombian igaming market, we believe that we are heading in the right business direction and the best is yet to come."