Betcade, the first app store for gambling on Android, has launched its early access programme for licensed gambling apps.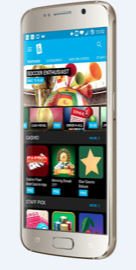 With the app store set to launch in full in 2016, partners joining the programme now will gain early access to the store, as well as direct support and the opportunity to provide feedback on the store's features.
"We've spent the past few months road-testing the concept and checking the temperature of the industry, and been really pleased with the results," said Betcade CEO David Chang.
"The creation of the Early Access Programme is a direct result from the demand we are experiencing from the industry. We want to create the best possible product for the gaming industry and are fortunate that online operators want to work with us to make the store a success."
Betcade's early access programme is available to any licensed gambling app in any category, including sport, casino and bingo, although availability is limited.