Moosh is a new online sports betting and casino brand that will go live in Portugal in Q4. CEO Martin Bengtsson tells iNTERGAMINGi's Jake Pollard how it will compete as a new entrant in this regulated market.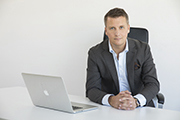 EUROPE'S regulated online betting and gaming markets are often characterised as being highly taxed with highly restrictive regulations that make them difficult to grow in.
Portugal is one of those. It regulated online sports betting and casino in 2015 but has a reputation for being a highly restrictive environment in which operators can find it hard to generate sports betting margins due to taxes set at eight per cent of turnover (handle). During the pandemic lockdowns, the Portuguese government also enforced a ban on all online casino games.
Read the full article in the latest issue of iNTERGAMINGi
To receive every print and digital issue of iNTERGAMINGi, subscribe here