1xBet has built up its business in the last 15 years to the point where it now strides the world.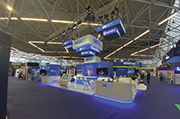 INTERGAMINGi: What are the major challenges when building a sports betting platform?
1xBet: Basically, there are two key points. The first is to establish trust with players. The abundance of offers on the market makes competition stronger than ever. And you need to prove every day that you deserve the attention of players - that you are ready to offer them the best conditions for victories and thrilling emotions.
Read the full article in the latest issue of iNTERGAMINGi
To receive every print and digital issue of iNTERGAMINGi, subscribe here