A 200-metre zorbing track has been opened at Hatta, UAE, about 1.5 hours' drive from Dubai.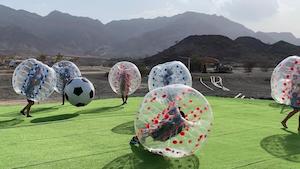 It is the first zorbing track in the Middle East, says the supplier, Gogravity. It is open daily for adults and children and forms part of the new Hatta Wadi Hub, an area of adventure and activities for tourists, including archery, rope courses, zip lines and downhill karting.
There is also a water jump park in the location and it has a range of accommodation alternatives for travelers, including luxury lodges.