The international division of Ropes Courses may soon add another company to its expanding network of worldwide distributors, with Zipline Korea currently participating in the company's trial period.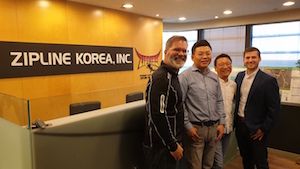 A successful completion of the required trial period, which lasts an average of one year and requires the successful completion of two or more projects, will give Zipline Korea the title of RCI Authorised Distributor and allow the company to sell Ropes Courses adventure products to customers throughout their designated region.
The two companies currently have three projects planned for 2019.
Operating in Seoul, Zipline Korea has over 10 years of experience installing more than 80 zipline courses under contract with local governments. Its core market consists of locations like camps, community centres, FECs, hotels and resorts.
"In Korea, there is a great interest when it comes to adventure facilities and the family-friendly products that go inside of these types of businesses," said Jeff Jung, president and CEO of the company.
"As a Professional Vendor Member of the Association for Challenge Course Technology, we are well versed in the standards and policies set by the industry and are confident in our ability to provide quality adventure products, be they RCI products in the future."
Zipline Korea is one of 42 Professional Vendor Members recognised in the world by the ACCT, with only seven other companies awarded the title in Asia.
"Becoming a distributor for RCI is not easy and requires the companies in question to have the necessary experience, customer base and overall reach," said Jon Weston, chief sales officer for RCI.
"We see great potential in Zipline Korea, Inc. and believe that they have the knowhow of their local markets that is required to be successful appointed distributors of RCI adventure products."
Pictured: (From left to right) Ropes Courses chief sales officer Jon Weston, Zipline Korea president and CEO Jeff Jung, Zipline Korea vice president and COO Kyoung-Jun Kim and Ropes Courses director of international sales Dan Mooney.