The Saudi Bowling Federation launched its first women's tournament, the Saudi Women Bowling Championship, in Riyadh recently amid a surge in interest in the sport.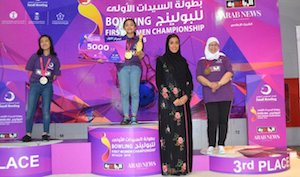 The first of the federation's initiatives to support women in sports, it will be followed by a tournament in Alkhobar on Oct 13 and in Jeddah on Oct 20.
Dr Razan Baker, a member of the federation's board of directors and head of media and women's participation told the Arab News that the number of participants in the Riyadh tournament exceeded expectations.
Riyadh has "the best bowling centre in Saudi Arabia," she said, "with international standards and the capacity to accommodate this large number of competitors."
The Saudi Bowling Federation is taking serious steps to promote the game. Seven months ago, a national bowling team was formed in the Eastern Province. Baker said the federation's plan to form a bowling team was met with an overwhelming response. "We received a lot of messages from people requesting information on the details.
"We are also getting in touch with all the bowling centers in the Kingdom. We have girls contacting us from Khamis Mushait, from the northern border in Arar for example. They're both happy and upset, asking why don't they have a championship like this in the northern province. Hopefully, we can organise more tournaments in different cities," Baker added.
Image: 13-year-old Mica Ecalnir (center) wins the Saudi Women Bowling Championship in Riyadh.