An unlikely partnership formed in 1996 on a football pitch has now celebrated its 25th anniversary as a leading amusement attractions business.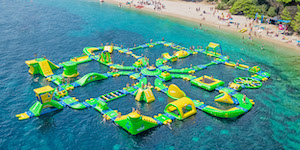 The goalkeeper of German football club, MSV Duisburg, and a Canadian striker became friends and founded the Aqua Toys Trading GmbH to distribute a new water product in Europe.
That led Romann Rademacher, now CEO of Wibit Sports, and president Robert Cirjak to go on to produce today's SportsPark combinations in modular format that can be seen across many of the world's great water play destinations.
The floating playgrounds in any size and shape - and capable of sizing to any body of water - means instant customising and has led to installations in 100 countries, now passing 50 million users.
The floating islands of fun has even found their way into the Guinness World Records with an Indonesian installation.
Now the company has launched Looft, floating water furniture for premium hotels and resorts.
Wibit recently installed the 640ft by 105ft Saudi Arabia floating islands, now the biggest floating water park in the world.