Leading floating water park brand Wibit together with its authorised partner for Indonesia, PT Ecomarine Indo Pelago, have officially opened the world's largest inflatable aqua park, Aqua Dreamland, at Secret Bay in Gilimanuk, Bali, and broken the world record in the process.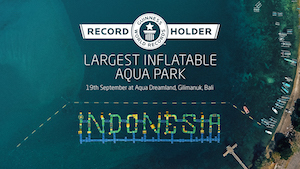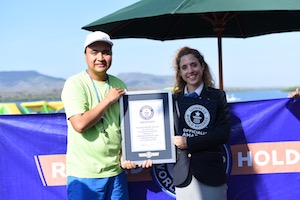 The feat was officially confirmed by Anna Orford, Guinness World Records adjudicator, (pictured) together with Putu Artha, the regent of Jembrana, acting as a witness, and thousands of guests in an extraordinary opening ceremony.
The new record-breaking aqua park spells out the word 'Indonesia' on the water. With a size of more than 28,900sq.m the so-called WibitTAG "tags" the Balinese coast, giving it a new iconic structure that is visible from an aircraft.
The Indonesia tag consists of 177 TÜV certified Wibit products that meet the highest quality and safety standards. The different styles of water obstacles offer various types of water activity, including sliding, jumping and climbing. The aqua park is designed to offer a capacity of up to 600 people.
Wibit's installation has up to now built more than 600 sports parks in more than 95 countries and the huge Indonesia message on the water was completely installed in just five days by six technicians a team of assistants.
"The whole region is so proud to open the world's largest aqua park and the first Wibit sports park in Bali. We are sure it will be a huge success for the local business attracting thousands of locals and visitors," said Yudiansah Yosal, authorised Wibit partner and owner of the Aqua Dreamland park.
Robert Cirjak, president of Wibit Sports said: "The complete Wibit Sports team is really excited to hold the official Guinness World Record certificate in our hands. People say a picture is worth a thousand words – we believe this word is worth a thousand pictures! "