The launch of a new attraction at a Welsh seaside town has been delayed indefinitely.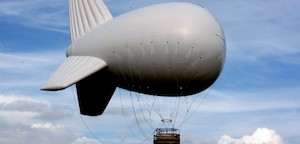 Zip World had planned to launch its newest attraction, Skyflyer, in Rhyl on August 3, but testing identified issues.
The Skyflyer attraction elevates guests 400ft into the air, offering them panoramic views of the Welsh coastline via a gondola attached to an airship.
No new date has yet been announced for opening and those with bookings have been contacted to arrange refunds.
In a statement, Zip World said: "We are sorry to announce that the launch of our newest attraction, Skyflyer, has been postponed until further notice.
"During our rigorous testing process, we identified an engineering and design challenge which will need to be addressed before our customers can enjoy the attraction.
"We will announce a new date for launching Skyflyer once we are satisfied it meets our standards."