The Tropical Islands Resort near Brandenburg, Germany, has installed a new water play attraction from Polin Waterparks.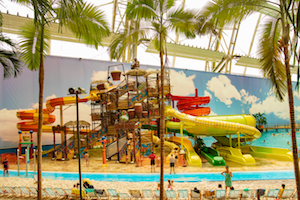 A custom-designed entrance arch welcomes guests as they approach the 49ft-tall aquatic attraction. As guests climb the 116 stairs to reach the top of the multi-level structure, they have a bird's eye view of the custom-made, wood-like theming that camouflages all of the structure's metal parts, including a themed hut and a large three-dimensional themed bucket.
Ten components combine to create six two-level modules that are anchored using a special floor-mounting system. Similarly, a custom hydro-mechanical system was designed to fit into the smallest space possible.