The latest basketball game from UNIS, To Tha Net, has been revealed.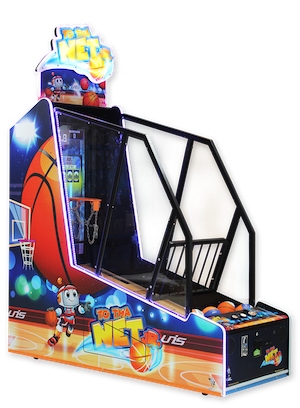 Scheduled to debut later this year at the IAAPA Expo, the game utilises a 65ins LCD monitor backboard to display computer-generated animations, complete with real-time digital prompts to encourage repeat play.
Up to as many as 16 units can be linked together and with a vibrant cabinet design featuring bespoke lighting and audio, UNIS is confident it has a winner on its hands. "We have been testing this game in Asia since March," said UNIS general manager Steven Tan. "The results have been remarkable. We are seeing more and more repeat plays from competitive players who are drawn to the interactivity of the game. The voice prompts really get the players going"
Players score points to progress through four different stages and can play against the clock or compete with other players for the highest score. In addition, the game comes with a camera feature to capture an image of the player's face that is displayed on the leader board. Selectable difficulty levels cater to players of various skill levels.
UNIS will also be launching To Tha Net Jr, utilising a smaller cabinet, suitable for younger players. The LCD display on the smaller version will move forwards or backwards to adjust the distance of the basket based on player's inputted age.