The Czech Republic's Synot was showcasing its cross-platform loyalty program at ICE this week, having extended the system to include video lottery terminals.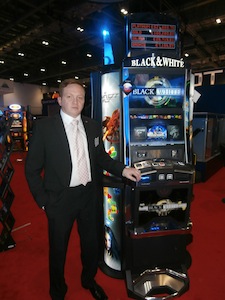 The company has three platforms – online, sports betting terminals and VLTs. The company's David Mixa explained that the online platform featured a loyalty system from the very start and this was then added to the company's sports betting terminals.
At ICE, Synot has been demonstrating the system newly integrated into its VLTs.
"Players can enjoy the same benefits across the three platforms," Mixa said.
Synot is one of the largest providers and operators of VLTs in central and eastern Europe, with a strong presence in its domestic market, Slovakia, Romania and Lativia. The company continues to broaden its portfolio of games and is this week presenting five exciting new titles here at the show.