The Autumn Coin-Op Show (ACOS) has confirmed a strong exhibitor line-up for the upcoming event.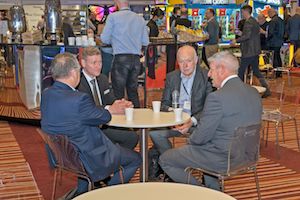 The show takes place at the ILEC Conference Centre in London, UK, from October 19-20.
Organiser Karen Cooke said: "ACOS is regarded as the UK industry's greatest networking event, but in truth, everything starts with our exhibitors; they are the mainstay of the event. Because of ACOS' tight UK focus, exhibitors are rewarded with a rich supply of influential visitors. They have risen to the challenge by scheduling exciting new product releases for the show."
Exhibitors will include Electrocoin, which has been a supporter of the show since its inception. It will be debuting its newest skill game Colour Match, which tests the speed and coordination skills of the whole family.
Novomatic Gaming UK will also be on the show floor, showing off brand new titles and past favourites.
Meanwhile Playsafe Systems will be showing off its newest machine management software tool, which it says is perfect for smaller independent operators.