Stern Pinball has come up with a new Star Wars Comic Art Pin.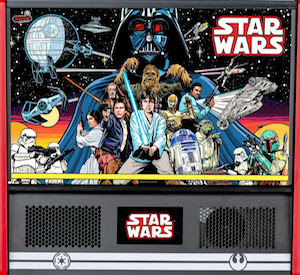 The game, designed for the home market, has features that include select speech and footage from the original Star Wars movie, a custom sculpted Death Star and interactive TIE fighter.
It also features the artwork of one of the most popular artists, Randy Martinez who has been illustrating for over 30 years, creating cartoons, caricatures, illustrations, painting and 3D art for Lucasfilm.
The cabinet boasts an all-LED playfield and brilliant light shows in a stylish but traditional cabinet.
"Star Wars Comic Art Pin is designed to provide quality family entertainment and bring pinball fun to homes everywhere," said CEO Gary Stern.
The game has Stern's Spike electronics hardware system to provide high-definition graphics and innovative animations.