The China-based manufacturer UNIS Technology introduced six new products at this year's showpiece US show, IAAPA Expo.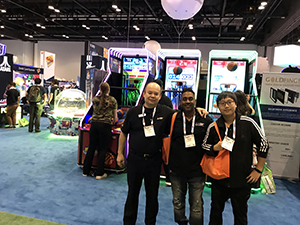 Moto VR is a bike racing game that has been developed in partnership with IGS, another Asian developer, and can be played with or without VR headsets.
Jetball Alley is described by UNIS as "the next generation of alley roller." Having been under development for over two years, the game uses a holographic design to expand the gameplay experience.
Zombie Nights is a spooky-themed family game that challenges players to eliminate the zombies by firing at the screen and also at moving mechanical zombies to earn tickets.
To Tha Net is a basketball attraction, challenging players' speed and accuracy over four stages. The game uses a 65ins monitor to offer an extra dimension to play. It can be linked for up to eight players simultaneously.
To Tha Net Jr. allows the player to select the difficulty of play, which then moves the hoop forwards or backwards, allowing younger players to feel confident in playing.
Disc It challenges player's skills in tossing a disc throughout four levels of play to compete for the greatest amount of redemption tickets.
All the games are due to be available by the end of December.