Sala Entertainment, one of the most prolific developers in the Middle East, is celebrating yet another opening.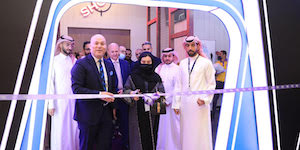 Company CEO Mohammed Attia is pictured with other top executives of the Saudi-based FEC operator at the opening of the second Sala Laser Tag venue at the Al Hamra Mall in Riyadh.
The opening was performed by Sala's HR director, Khulud Al Asmari, with Attia holding the tape.
Attia said: "It is another great day for Sala and very much in keeping with our expansion plans. We won't stop innovating and creating the best destinations in Saudi."
Sala operates a number of brands across the country, including the Billy Beez FECs, Sala City, Sala Karting and the Jumping Beez trampoline park.