Trampoline park operator Jump Up will feature a number of Ropes Courses attractions at its newest location in Tubli, Bahrain.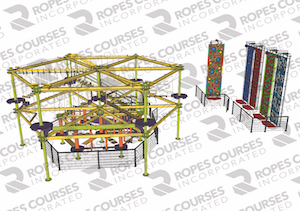 Among the installations will be Sky Trail and Sky Tykes attractions, as well as five Clip 'n Climb climbing walls. The 2,000sq.m indoor facility will also feature wall-to-wall trampolines, basketball hoops, trampoline-sprung dodgeball courts, a foam pit, professional trampolines, large balcony and cafe.
The Sky Trail will be hexagonal in shape, showcasing 12 interactive elements for guests to engage with, and will feature the nine element Sky Tykes with Sky Rail underneath to allow smaller children to easily join in on the fun. Not far from these two new attractions will be the five climbing walls, namely the Cloud 9, Big Cheese, Amazing and two Speed Climb challenges for both beginner and expert climbers.
"We decided to purchase the Sky Trail and integrate the attraction as well as the others into our space because we had heard of RCI and knew they were experienced in the amusement industry," said Tariq Khalaf, managing director for Jump Up. "Attractions of this nature are the first to be debuted in Bahrain so we're very excited to share them with the public."
"Working with the team at RCI has been a great experience so far. From the beginning, they have been organised, professional and very helpful in making my plans a reality," added Khalaf.