Ropes Courses has spent much of 2018 expanding its global presence and sales in regions with an emerging demand for physically interactive adventures.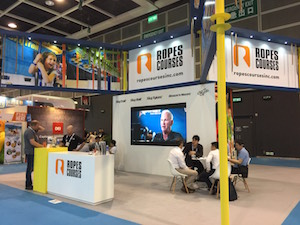 During 2018, RCI staff attended three shows outside of North America, including the Asian Attractions Expo in Hong Kong, the Dubai Entertainment Amusement and Leisure show in Dubai and the Euro Attractions Show in Amsterdam. Next up, the company will also attend the Attractions, Leisure and Tourism Middle East Forum in Dubai, UAE, in mid-October.
The company's line-up of products includes the Sky Trail and Sky Rail aerial attractions, Clip 'n Climb vertical climbing walls, Sky Tykes and Amaze'n Mazes human labyrinths.
"In talking to everyone at EAS, tourism increases have encouraged parks and resorts in many countries to purchase diverse new attractions for their guests," said Jon Weston, vice president of sales and marketing at RCI, who attended the show in Amsterdam. "Our products are meeting the demand we're seeing in the industry by providing quality, fun experiences for participants as well as delivering a high return on investment for operating businesses."
To further strengthen its appeal to international attraction operators, RCI works directly with distributors in different geographical areas to facilitate local sales and installations and to provide local and regional support throughout the design, installation, and opening phase of all new attractions.
"Part of our commitment and guarantee to each client is that every attraction is quality tested and certified to meet or exceed local government regulations," said Weston. "Our reputation for high standards in quality and safety during the past 30 years reassures clients in any destination that they will have a hassle-free and smooth opening for their new attraction."
The final 2018 event for the company is the International Association of Amusement Parks and Attractions Expo in Orlando, Florida, in mid-November with an estimated 39,000 participants. Along with showcasing its attractions, the company will be celebrating its 30th anniversary with the unveiling of a new brand identity.
"The benefits of incorporating family entertainment is growing significantly across many markets," continued Weston. "People are intrigued when they actually see a full-sized Sky Trail at one of these tradeshows. Customers can easily envision that our attractions make a bold statement whether looming high inside a shopping centre's atrium or soaring above the sea in a 24-storey cruise ship."