PlaySmartUK, developer and provider of safe playground surfaces, has installed its JungleMulch product at a playground in London's Nelson Square.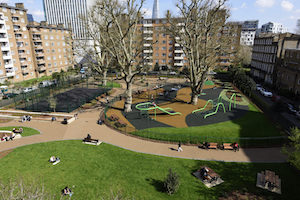 JungleMulch is a water permeable safety surface with the look of natural bark. It is ideal for parks, play areas and public spaces and is available in a variety of colours.
This most recent installation follows the successful provision of the surfacing for several park regeneration projects in South London, including the award-winning Camberwell Green.
"Waves of gold and green mulch perfectly complement the wider landscape and the bright green equipment provided by Kompan," the company said.