There is a plan to move the traditional Munich Oktoberfest from Germany to Dubai – with a huge travelling amusement park, this year.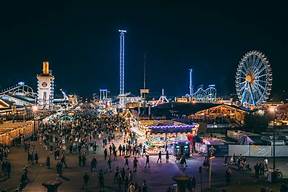 The move from Germany to a desert location – in a country where alcohol is less easy to obtain – has surprised the tourist industry. The plan is by a group of German businessmen who fear that the beer festival will not be permitted to go ahead because of Covid-19 restrictions.
The plan is to erect 32 huge tents in a 10-acre festival site close to the Dubai Marina, with an accompanying travelling fairground of amusements and rides. Special shuttle buses would be organised to transport the festival-goers to avoid them using the local public transport while under the influence of alcohol – punishable by a jail sentence and up to $1200 in fines.
There has been no official comment from the UAE authorities, but the promoters state that they have agreement in principle.
The serving of alcohol currently in the UAE is restricted to hotel and private clubs, but the festival site would be classed as a temporary private club. The Munich Oktoberfest attracts 6.5m visitors each year and the organisers of the Dubai proposal believe that it could bring in 4m visitors for the two-week event due to start on October 7.