Celebrating its 40th anniversary this year, Pac-Man is now an inductee into the Comic-Con Museum Character Hall of Fame.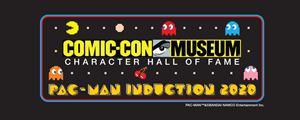 The pop culture icon was the highest-grossing video game ever and the Hall of Fame recognises the contribution of Pac-Man and other timeless characters who have made a significant impact on comics as well as popular arts and culture.
Pac-Man, from Namco, is one of the longest-running video game franchises in history and signalled a shift in video game storytelling as well as character development, said the citation. "Pac-Man has been featured in music, television, film and more. After being created by Toru Iwatani, a Japanese game designer, the game was first released in Tokyo in May 1980 and shortly after made its debut in the US in October of the same year. Pac-Man joins Batman who was the first character inducted, launching the Museum Character Hall of Fame in 2019.
Since his creation, Pac-Man has become one of the most popular video games of all time. In 2016 it had generated more than $14bn in revenue and is considered by many to be one of the most influential video games of all time for its simple yet complex approach to restructuring video game narratives."
The online induction celebration will be held on December 17, consisting of a combination of interactive live stream elements and pre-recorded content and videos.