Saudi-based operator Al Othaim Leisure has opened its latest Fabyland family entertainment centre.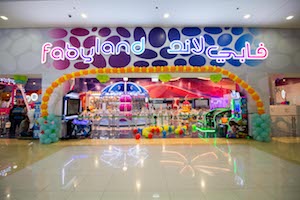 It is located in the Dragon Mart 2 shopping mall in Dubai. The location has the typical Fabyland mix of rides and games, trampolines and a three-level soft play structure.
Dragon Mart 2 is a sister mall of Dragon Mart, the world's largest Chinese trading hub outside of mainland China and contains shopping, dining and entertainment. It has more than 1,000 shops and kiosks in 1.4million sq.ft of retail space.
Said Mohammad Attia, general manager at Al Othaim Leisure: "We are excited to launch Fabyland at Dragon Mart 2. The state-of-the-art family entertainment centre covers an expansive 14,000sq.ft of space, and brings non-stop indoor entertainment for children of all age groups – fun-filled rides, action-packed gaming arcades and intriguing novelty machines with rewards for every level of skill.
"Our vision is to offer an experience of leisure combined with fitness and recreational options to families. We have set-up a 'futuristic' ambience at the facility featuring a wide range of thrilling rides and attractions for all age groups. We are also bringing My Town, a new concept that provides entertainment along with physical activities for toddlers, children, teenagers and adults."
Al Othaim has two other Fabyland locations in the UAE, the Deefields Mall at Abu Dhabi and Dubai Festival City.
Three more Al Othaim locations are due to open next month, the company has confirmed. An Xtreme Zone and another Fabyland are due to be opened in the Mall of Muscat, Oman and one Xtreme Zone in Abu Dhabi.