A gratifying number of UK companies are among those traveling to Saudi Arabia this week for next week's big trade show there.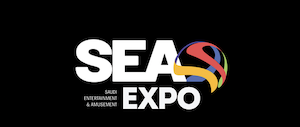 Saudi is the next big market with the government-sponsored major expansion of the leisure market with some mega-projects under way.
The Saudi Entertainment and Amusement Expo in Riyadh opens its doors on Sunday for a three-day run.
Among the exhibitors at the International Convention Centre are: ME&C Creative, Viewpoint Videos, Ice Wonderland, Conductr, Sports Simulator, U Cargo Up, Severn Lamb, Environmental Street Furniture, Gravity Franchise, Interactive Imagination, SES Entertainment Services, Mascots Inc, Interlink LG, the Shipping Monster, Underwraps Event Choreography, Scruffy Dog Productions and Experience UK.
Many of those may not be familiar to the amusement industry, but others are not there because they are exhibiting on the stands of distributors, such as Sega, Bandai Namco, Electrocoin and others.
The exhibitor list is dominated by companies supporting or supplying big projects such as theme parks, as they are initially dominating the Saudi scene, but the more familiar FECs are expected to become a major factor in the market.