The first nationally owned and operating cinema chain in Saudi Arabia, Muvi Cinemas, has opened its first location in the Mall of Arabia in Jeddah.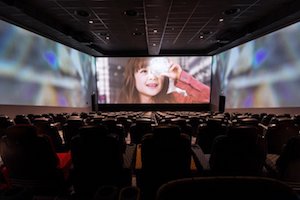 The opening, last Saturday, was a venue operated by Next Generation Company, and the event was attended by Turki bin Abdiullah Al-Shabanah, the Saudi Media Minister.
The venue will accommodate 1,950 guests and has 15 screens. Its suites offer luxurious, fully-motorised, reclining leather chairs with footrests and the comfortable customers can then view their entertainment provided by Barco high-res laser projectors and listen through a Dolby Atmos surround system.
The Xperience screen also has seat with cellphone chargers and extended legroom while at ScreenX there are multi projectors working in tandem to project a realistic panoramic image on the main screen and on side walls simultaneously.
The ultimate is the Muvi Suite, with a private lounge to go with the top-level amenities.
Coming soon is the Junior Screen for children in their own room to simultaneously play on creative pastimes and draw, play in a ball pit and enter the viewing room through a slide to watch their movie.
Now Muvi will launch 250 new screens across KSA over the next two years.