A new mobile zip line for children and adults has been unveiled by Zip World, the operators of the world's fastest zip line located in Wales.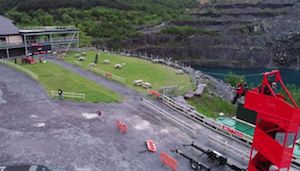 The new line is the largest mobile line in the world and will be based at Zip World Velocity in Bethesda, Wales, when it is not on tour across the rest of the UK.
The company has around 400,000 riders at its premium sites in Bethesda, Blaenau Ffestiniog and Betws-y-Coed, in the north of the country but the new line can be transported to events anywhere. It will travel throughout this summer to conferences and festivals and is designed to bring zip riding to fdresh audiences.
One of the first bookings for Big Red is at the Welsh National Eisteddfod (a cultural event of literature and music that is unique to Wales) in Llanrwst.