Dezerland Park in North Miami is due to add go karting to its roster of attractions.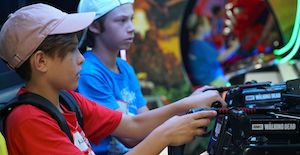 Currently Miami's largest indoor theme park, Dezerland Park first opened its doors during the summer, and since then has added several new attractions, classes and games.
Dezerland Park now offers:
- Dezer Gymnastics Training Center, managed by former European Gymnastics Champion Aurelia Bentov.
- Certified Ninja Warrior Training Course featuring trampoline park, rock climbing wall and ropes course.
- Miami Arcade, featuring over 200 machines.
- Virtual Reality Park Miami, which covers 13,000sq.ft and houses 20 individual machines, a virtual arena and more than 50 state-of-the-art 5D games and rides, making it the largest in Florida.
- Airborne Escape, a parkour course with beginner, intermediate and advanced levels and certified coaches for training.
- Circus Studio, featuring aerial silks and acro-bungee.
Karting Miami will open in early 2019, and feature 50,000sq.ft of track and space with LED flashing lights, three race tracks for adults and children and electric powered, open-wheeled race cars which can reach 40mph.
These attractions are on top of the existing event space, dance and karate studios, classrooms and kid space. Eventually the location will also feature indoor skydiving, an indoor zip-line course and outdoor paintball.
Dezerland Park is the brainchild of real estate tycoon and car collector Michael Dezer and in addition to the entertainment components, the facility offers group events, team building, corporate gatherings, Bar and Bat Mitzvahs, summer and after-school camp, gymnastics, martial arts, aerial silks, dance and trampoline fitness, kids and adults classes, and more.