The huge Meydan One project in Dubai is on track for a 2020 launch, according to reports.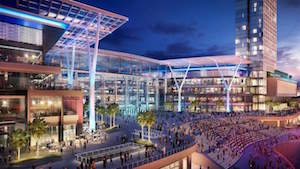 Around 60 per cent of the structural work has now been completed on the project, destined to become a lifestyle experience venue expressing entrepreneurship and technologies.
It will integrate indoor and outdoor spaces with attractions that will include a ski slope one kilometre long, a heritage village, a sandy beach, water park, hotels and housing and the largest dancing water fountain in the world.
Fahad Kasim, vice president of Meydan Malls, said: "We are changing the way in which the Middle East thinks of malls. Meydan One will be a place for every one, seeking to accommodate varied needs and expectations."
The venue will have nearly 600 retail outlets of which 30 will be anchor stores. There will be 190 dining outlets and a hypermarket covering 13,200sq.m. One of its features will be a central plaza capable of holding 30,000 people for events. The water fountain will be accompanied by a Crystal Lagoon covering 8.2km.
Attractions will include an Experience Zone with extreme sports, edutainment and egaming, plus a sports arena. Other entertainment will include a 21-screen multiplex.